Routine HVAC unit maintenance in Winston-Salem is a great way to extend the life of your unit over time.
Just like many of your other business systems, your HVAC unit requires some maintenance to keep it working well. At QRC, we know that HVAC unit maintenance isn't often on your priority list as you go about your daily routine, but we also feel strongly that keeping up with this important task will provide peace of mind now and in the future.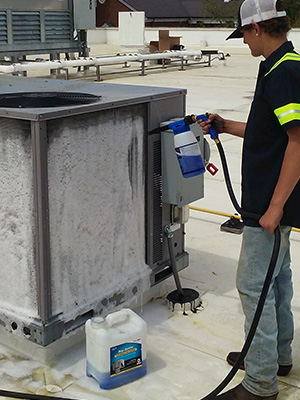 With routine HVAC unit maintenance at your business in Winston-Salem, North Carolina, you can expect your system to operate more efficiently and equip your business with the comfort solutions required. When you switch from heating to cooling or adjust the thermostat inside your living and working spaces, you'll see that your HVAC system is as responsive as you expect it to be. Furthermore, routine HVAC unit maintenance is a great way to extend the life of your HVAC unit over time and prevent unexpected repairs and service calls.
At QRC, we can help you develop the best HVAC unit maintenance plan for your commercial property, as well as perform the servicing needed to keep this important system working well for many years to come. We are knowledgeable about a variety of different systems, can troubleshoot any problems, and will provide expert service every time we come to your door.
If you have questions about your current HVAC unit or would like to schedule HVAC unit maintenance, reach out to us at QRC today. We look forward to serving you.
---
At QRC, we offer HVAC unit maintenance services in Winston-Salem, Raleigh, Charlotte, Greensboro, Waterford, Central Heights, Southern Pines, Lewisville, Clemmons, Kernersville, High Point, Ardmore, King, and Lexington, North Carolina.